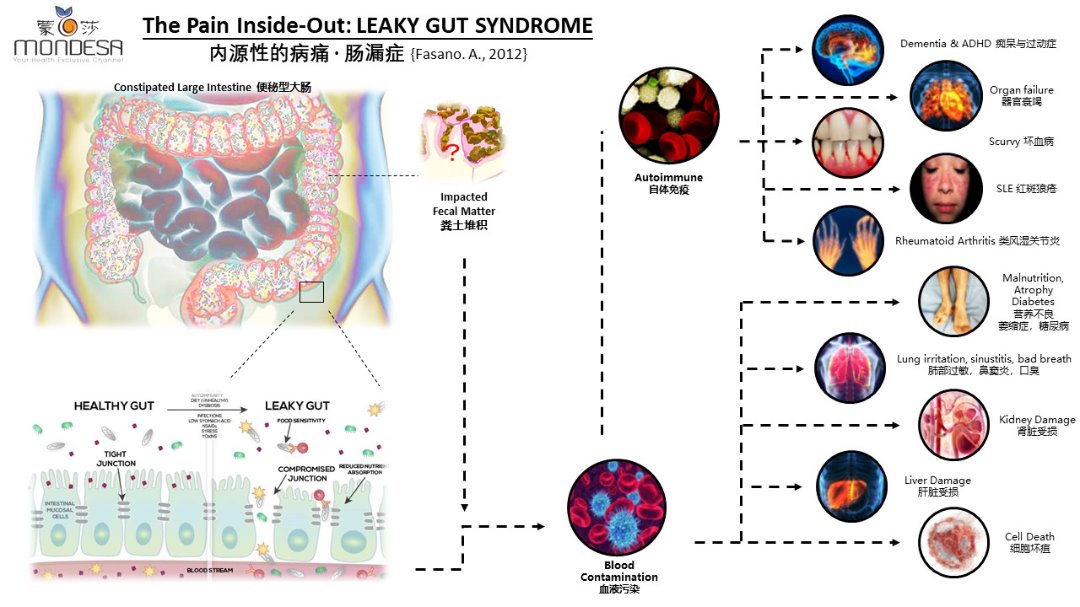 内源性的病痛:肠漏症
大肠是人体中的 "垃圾场",也是从人体其余部分隔离病菌与毒素的 "围栏"。这个重要构造的崩陷将导致人体受到废料粪土的污染。{Schneeman, 2002}
大肠的内墙由柱状上皮细胞紧密组成。当细胞之间的纽带松弛,大肠内的废物渣滓、毒素、与病菌入侵周围的血管并传遍全身。
起因
肠漏症有很多起因,简单的归类成 病菌(如:霍乱菌 Vibrio cholerae、沙门氏菌Salmonella enterica)、毒素(如:连蛋白毒)、敏感元(如:麸质)、药剂 (如:阿司匹林与布洛芬)、促炎细胞因子(如: TNFα与 IL-13)、缺乏益生菌、与基因疾病(如:乳糜泻与第一型糖尿病)。
大部分肠漏患者都原由便秘开始,因为以上多种有害物质累积在大肠内。这也是粪便细菌的温床,更加度引发大肠的易透性。
{El Asmar et al., 2002; van der Walle et al., 2011; Fasano, 2012; Hollon, 2015; Odenwald and Turner, 2013; Weber at al., 2010}
病理与症状
当血液受到粪土物质的污染并循环全身,这些有害物质在人体内随地引发免疫反应,与多次复发似乎毫无根源的炎症。这情况称为自体免疫。{Fasano, 2012}
肠漏有许多随机性的症状,取决于自体免疫反应 (也成为 白血球暴乱) 集中之处。普遍症状包含 关节疼痛(可能演变为 类风湿关节炎 RA),注意力不足多动症(ADHD),湿疹、疥疮,并长期性疲劳、感冒、鼻窦炎、与口臭。肠漏不治即可能恶化成 多器官衰竭、多发性硬化、与红斑狼疮(SLE)。
炎症→ 营养不良 → 微生物生态崩陷 → 肝脏受损
肠漏患者通常面对营养不良。因着人体众细胞阻抗 "肮脏血" 所运输的营养。血液的毒素与未吸收的营养一同带入肝脏 造成负担并提高肝炎风险。
{Abdelhamid and Luo, 2018}
处方
1.纤维: 食物性纤维强化大肠内墙的密度,也预防粪便的堆积。{Shiau and Chang, 1986}
2.补肝补肾: 肝与肾必须与虚弱的大肠分担排毒工作。因此必须保护与滋润这器官。特别是维他命A、B群、卵磷脂、奶蓟、蒲公英、黄姜、与初榨椰子油。{Cody, 1988}
3.蛋白质:苏氨酸 (Thr)、甘氨酸 (Gly)、谷氨酰胺 (Gln) 是维持大肠粘膜稳固的基要元素,并预防细菌与毒素逃离大肠。{Van Der Hulst et al., 1993}
4.抗氧化剂: 谷胱甘肽(GSH) 减少大肠与肝脏内有毒的新陈代谢物与异生物。{Deitch, 1990}
5.益生菌: 乳酸菌 (Lactobacillus sp.) 与双歧杆菌 (Bifidobacterium sp.)在大肠内维持良好的微生物生态环境,协助营养吸收,并抵挡病菌。
6.必需脂肪酸:必需脂肪酸 (EFA) 如 伽玛亚麻酸 (γ-linolenic acid, GLA) 促使前列腺素,修复上皮细胞组织稳定,修复大肠粘膜。 {Vanderhoof et al., 1991; Kapoor and Huang, 2006}
7.减少过敏性食物
8.优质的睡眠
References 参考
Abdelhamid, L. and Luo, X.M., 2018. Retinoic acid, leaky gut, and autoimmune diseases. Nutrients, 10(8), p.1016.
Deitch, E.A., 1990. The role of intestinal barrier failure and bacterial translocation in the development of systemic infection and multiple organ failure. Archives of Surgery, 125(3), pp.403-404.
El Asmar, R., Panigrahi, P., Bamford, P., Berti, I., Not, T., Coppa, G.V., Catassi, C. and Fasano, A., 2002. Host-dependent zonulin secretion causes the impairment of the small intestine barrier function after bacterial exposure. Gastroenterology, 123(5), pp.1607-1615.
Fasano, A., 2012. Zonulin, regulation of tight junctions, and autoimmune diseases. Annals of the New York Academy of Sciences, 1258(1), p.25.
Hollon, J., Puppa, E., Greenwald, B., Goldberg, E., Guerrerio, A. and Fasano, A., 2015. Effect of gliadin on permeability of intestinal biopsy explants from celiac disease patients and patients with non-celiac gluten sensitivity. Nutrients, 7(3), pp.1565-1576.
Kapoor, R. and Huang, Y.S., 2006. Gamma linolenic acid: an antiinflammatory omega-6 fatty acid. Current pharmaceutical biotechnology, 7(6), pp.531-534.
Odenwald, M.A. and Turner, J.R., 2013. Intestinal permeability defects: is it time to treat?. Clinical Gastroenterology and hepatology, 11(9), pp.1075-1083.
Schneeman, B.O., 2002. Gastrointestinal physiology and functions. British journal of nutrition, 88(S2), pp.S159-S163.
Shiau, S.Y. and Chang, G.W., 1986. Effects of certain dietary fibers on apparent permeability of the rat intestine. The Journal of nutrition, 116(2), pp.223-232.
Vanderhoof, J.A., Blackwood, D.J., Mohammadpour, H. and Park, J.H., 1991. Effect of dietary menhaden oil on normal growth and development and on ameliorating mucosal injury in rats. The American journal of clinical nutrition, 54(2), pp.346-350.
Van Der Hulst, R.R., Von Meyenfeldt, M.F., Deutz, N.E.P., Soeters, P.B., Brummer, R.J.M., von Kreel, B.K. and Arends, J.W., 1993. Glutamine and the preservation of gut integrity. The Lancet, 341(8857), pp.1363-1365.
Van Der Walle, C.F. and Schmidt, E., 2011. Modulation of the intestinal tight junctions using bacterial enterotoxins. In Peptide and Protein Delivery (pp. 195-219). Academic Press.
Weber, C.R., Raleigh, D.R., Su, L., Shen, L., Sullivan, E.A., Wang, Y. and Turner, J.R., 2010. Epithelial myosin light chain kinase activation induces mucosal interleukin-13 expression to alter tight junction ion selectivity. Journal of Biological Chemistry, 285(16), pp.12037-12046.